Beckie Rock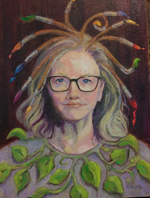 Beckie Rock grew up in Utah surrounded by a family that loved art. You may even say it was instilled in her from birth. She learned most of her art abilities from her mother and sister while also taking classes at the Salt Lake Community College were she earned associate degrees in both Illustration and Design. She has always had a passion for art and her inspiration is her sister, Bonnie Posselli, a renowned Utah artist. Rock's mother started to really dive into art after her children were grown, and Rock followed in her mother's footsteps, finding her artistic desire after her own children were grown.
Rock enjoys working behind the scenes in Utah art. She designs and maintains websites for the Plein Air Painters of Utah and the Holladay Arts Council.
Copyright P.A.P.U. All images are copyrighted and cannot be reproduced without the written consent of the artist.