Bonnie Posselli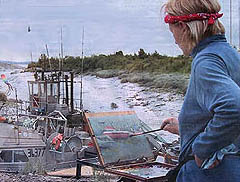 Bonnie Posselli's many years of outdoor painting experiences are evident in her pure, serene nature settings. She depicts the ephemeral qualities of light and air as they play with nature using a recently developed technique inspired by the masters. She creates an interaction between opaque paint applied with palette knife and brush, and layers of transparent glazes. The paintings give you a feeling of being suspended in time. . .a time that you want to remember.
Bonnie Posselli's paintings are now in great demand and can be found in many fine collections around the country.
Copyright P.A.P.U. All images are copyrighted and cannot be reproduced without the written consent of the artist.