Elizabeth Robbins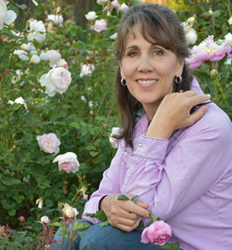 Elizabeth was raised in the Wasatch Mountains of Utah. As a child, her Grandmother's would
help her identify various wild flowers at their cabin above Oakley, Utah. This is where her love
of flowers began. "I still have the book where I pressed and categorized wild flowers that my
paternal Grandmother helped me with." She began painting in her early 20's but soon children
became her priority and her love of painting was an occasional hobby. As the children grew, so
did her desire to expand on her art. Elizabeth now devotes full time to her art. She has won
numerous awards including "Best Still Life" at the National Oil and Acrylic Painter's Exhibit
and the "Tuffy Berg Award" at the 2008 CM Russell auction.
Her work is in private collections throughout the United States and in the Ella Dunnegan
Museum in Bolivar, MO.
Copyright P.A.P.U. All images are copyrighted and cannot be reproduced without the written consent of the artist.