Kimbal Warren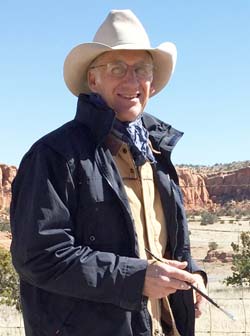 Kimbal Warren grew up in the shadows of the Rocky Mountains near Salt Lake City, Utah. As a young boy, he discovered that he could draw most things better than his peers and that he would rather draw than do about anything else.
He graduated from Brigham Young University with a Bachelor of Fine Arts Degree in 1978.
His horses have been a way for him to photograph and sketch areas that most do not see. He regularly packs his animals with a week's worth of gear and grub and heads out for some of his favorite places to paint…the Wind River Mountain Range in Wyoming, the Uintah Mountain Range in Utah, or the many canyons in southern and eastern Utah. Kimbal is no stranger to adventure. He has also been an avid hiker, climbing to the top of the Grand Teton in Wyoming, hiking to the bottom of the Grand Canyon, and many places in between.
Copyright P.A.P.U. All images are copyrighted and cannot be reproduced without the written consent of the artist.