Larry Wade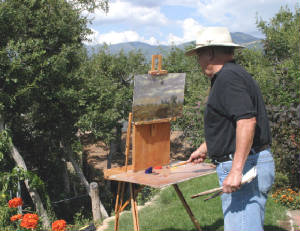 As an artist, Larry doesn't see himself as a story teller,historian, or reporter.  He feels more closely related to the poet or musician.  
He is trying to deal with moods, together with other visual and emotional stimulant.   Drawing and painting skills are important and must be present in a  painting, but it is the ability to communicate the emotion, spirit or essence of the subject to the viewer that is essential.  In order to accomplish this, his subject matter is  carefully chosen.  
He paints subjects that inspire him in ways to interpret color, movement,texture,and mood.  Poetry is the goal!
Copyright P.A.P.U. All images are copyrighted and cannot be reproduced without the written consent of the artist.