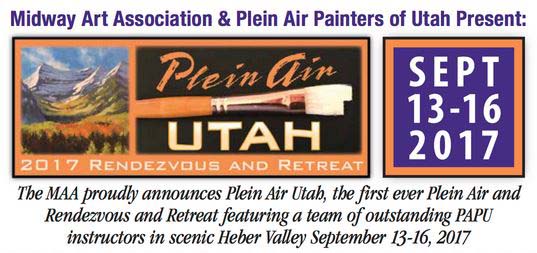 Midway Art Association and Plein Air Painters of Utah - Fall Art Retreat
September 13 - 16, 2017
Workshops, demos, presentations
Visit UtahPleinAir.com for more information.
Paint-out schedule for 2017
June:  Heber Valley, Midway Plein Air Paradise, 26th through July 4th.
July:  Silver Lake, Brighton, Thursday the 27th.
August:  Spring City Plein Air Event, 29th through Sept. 2nd.
September:  Due to Plein Air Utah, there will be no paint out this month..
October:  Morgan area, (or maybe Ogden Valley?) Thursday the 26th.
November: Jordan River Parkway, Thursday the 16th. Intersection of Morning Dew and Lucky Clover
Of course, things may change and tweaked a bit.  Info will be sent out prior to each paint-out, which will be the fourth Thursday of each month.  We'll paint from dawn to dusk, so possibly everyone can get a chance to meet up with us.

Copyright P.A.P.U. All images are copyrighted and cannot be reproduced without the written consent of the artist.