Steven Heward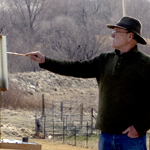 Steven Heward was born in 1956 in Salt Lake City, Utah. He received a few scholarships to Weber State, which he attended for a year, in 1974. He then transferred to the University of Utah and studied under Alvin Gittens from 1975-1978. He focused on Figure Drawing, Figure Painting, and Anatomy.
Steve feels so fortunate to have spent so much time under the instruction of such a skilled portrait painter.
The University of Utah is where he learned to draw and paint from live models.
Steve believes painting from life strengthens one's ability to see and paint. He stresses that painting anything from life improves both the accuracy of colors and values. Although movements and changing light conditions are challenging, they teach the painter to paint quickly and efficiently. An asset needed in painting Plein Air.
Steve is a self-taught Plein Air Painter.
Copyright P.A.P.U. All images are copyrighted and cannot be reproduced without the written consent of the artist.